"Pandemic gardening" is the newest trend that's taking over the world. More Sydneysiders are now becoming landscapers, garden designers, and horticulturists in their own right. The International Association of Horticultural Producers (AIPH) in Zurich actually encourages it as gardening promotes wellness during the pandemic. But as many people join the bandwagon, not everyone can sustain this newfound hobby, especially when they keep making the same mistakes. So if you really want to stay in the game and keep growing your plants, it's time to cross out some of these habits!
Stop sweating the small stuff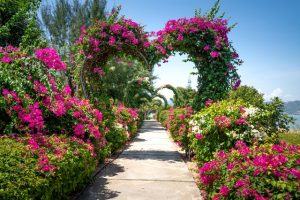 New gardeners are often excited with their first set of plants, treating them like babies and never letting them out of their sight. Sometimes, it gets too much that even the smallest nuances get them worried. Obsessing over a few small white spots or leaf holes are usually not worth poring over your time and attention. Especially when you start growing your garden, you will have to think the same way garden designers would – to look at the whole picture. Plants will always have their imperfections and so will gardens. What's important is to see the overall plant health of your greenery and focus on growing your plants.
Stop impulse buys
Whenever a plant sale pops up around the corner, newbie gardeners swarm the place and end up buying a new bunch. More often than not, they realize that either the plants are not a good fit in their outdoor garden or they just have too much to handle. While love for the flora and fauna can be addicting, it is important to keep it in check. With the purchase of new plants comes the responsibility of growing it. Each plant has its own needs, sunlight requirements, and placement in the garden. The problem with impulse buys is that you fail to account for these requirements which are vital in your garden's landscape design. So before you head over to a nursery or sale, prepare a wish list of plants and where you plan to place them in your garden.
Stop pretending you don't need help
While it is a wonderful thing to DIY your own outdoor garden, it is not always a simple task. When your plant collection starts to get bigger, try to consult some landscapers in Sydney. With their expertise and experience, you can breathe easy as they organize your outdoor space. Garden designers put a lot of thought into planning a garden and they can tell you what would work best for your plants.
Do you want your neighbors to admire your garden? Visit http://ecodesign.com.au/.
Stop these Habits to Start a Better Outdoor Garden!

,