What do Ariana Grande, Anna Kournikova, Haley Cuoco, Cardi B, Avril Lavigne, and other Hollywood celebrities have in common? Aside from being super-famous women, they all wear magnificent pear-shaped diamond rings. A symbol of exquisite brilliance, the pear-shaped diamond ring can make heads turn and notice the allure and beauty of this special cut. High-end pieces can run up into the millions like the Taylor Burton Diamond, a 69.42-carat Harry Winston pear-shaped diamond once owned by American actress Elizabeth Taylor and priced at US$8.8 million. This is considered to be the most expensive piece of jewelry ever owned by a civilian.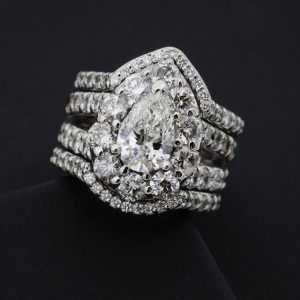 When it comes to diamond rings design, the most common are round cut diamonds. But there are also other cuts that show glamour and grace like the marquis cut and emerald cut. The pear cut however has its own charm and allure since it is a combination of the marquis and round cut. Some consider this to be a modern cut but actually, it dates back to the mid-15th Century. According to Gem Society, a diamond cutter from Belgium named Lodewyk van Bercken was the one who invented the cut using his scaif or the diamond-polishing wheel. But why should one consider this kind of diamond cut? Here are some compelling reasons.

It evokes uniqueness and status
Immediately, the pear-shape cut is already an attention-grabber. It is not the usual round-cut diamond people are used to seeing in engagement ads. It is also considered to be the "fourth most expensive diamond shape." The pear-shaped diamond ring is a classy and eye-catching alternative to the usual cuts that is why Hollywood celebrities adore it as the ring stands out on the red carpet due to the cut and size.

It resembles a teardrop
It may sound cliché but some people buy pear-shaped diamond rings because of their shape. It resembles a teardrop which can symbolize tears of joy. These diamond rings evoke a romantic timeless feel while mixing a feminine vibe. It also looks perfect not only when set on rings but also as pendants on necklaces. The teardrop shape can effortlessly rest on the chest of the wearer without feeling uncomfortable.

It has a wide price range
While there is a prevailing idea that the pear-shaped diamond ring is expensive, the truth is, people can actually afford it. The extreme cost of a pear-shaped diamond can run into the millions but on average, considering its 4 Cs grade, "a 1-carat pear shape with decent grades will commonly cost between US$3,500 to US$4,000 according to Diamonds Pro.

Search no more for pear shaped diamond rings in Sydney, visit https://www.opulenti.com.au/.

3 Compelling Reasons Why Pear-cut Diamonds Attract People

,